We've put together some great resources to support you during your Mahuru Māori challenge over the years including kaupapa cards (so people know about your reo challenge), puka kīanga, puka tuhituhi, kupu charts, our Taringa podcast and our friendly Facebook group where you'll find a community of reo enthusiasts on the same waka.
These kaupapa cards are really handy when you are speaking te reo Māori to someone who doesn't speak te reo and you need to explain your reo challenge. They enable you to ask for support and patience as you stick to the kaupapa. Download the card to your phone, or print them out to make your interactions with others that little bit easier.
Computer / Phone Wallpaper
Click on images to view and save hi-resolution version
Click on images to view and save hi-resolution version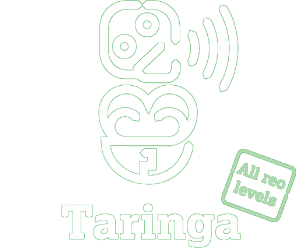 Whakarongo ki a Taringa – listen to Taringa, a bilingual podcast brought to you by Te Wānanga o Aotearoa.
The Māori Language Commission has a wealth of resources available on their website. You'll also find a wealth of ideas on how to improve your Māori language capability and to stick to your Mahuru Māori reo challenge.