Me kōrero
Kaupapa kāri
Kaupapa cards
These kaupapa cards are really handy when you are in a situation when you are speaking Māori only to someone whom doesn't speak Māori and you need to explain to them in English about your reo challenge. Asking for support and patience as you stick to the kaupapa without breaking out of the Māori language. Download this to your phone, or print to make your interactions easier.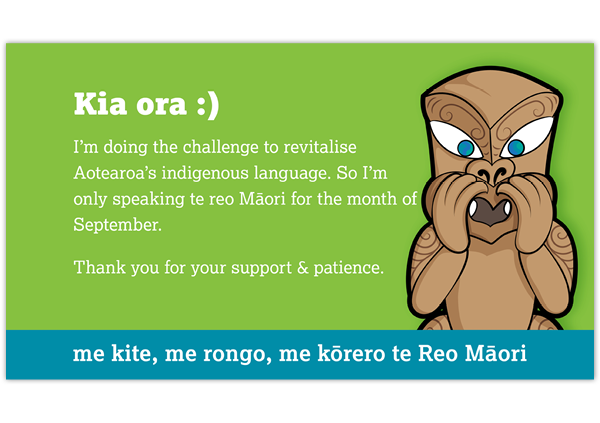 Tikiake i te kāri pukapuka
---
Tautoko pukapuka
Support books
Learn handy new phrases in everyday situations (puka kīanga) or at the gym (kupu whakapakari tinana), and/or record your experiences throughout your challenge with the journal book (puka tuituhi).
---
Pakihi kāri me ngā pānui whakaahua
Participation posters and business cards
Show that your business or establishment is participating in Mahuru Māori with these posters and business cards. Download these to display on your phone or print and put them up in your shop window.