Special thanks to our MC Hello Miss Potter, professional Fortnite player MF Twizz and our Te Wānanga o Aotearoa whānau for putting on this historic event.
We'd also like to say thank you – the viewers – for making this such a success.
About Mahuru Māori Fortnite
Te Wānanga o Aotearoa (TWoA) gamers pitted their reo Māori skills alongside the best players in New Zealand in a LPL "Night Squad" broadcast of the world's most popular video game, Fortnite. TWoA partnered with LPL to see more reo Māori incorporated into their live Fortnite broadcast as part of Mahuru Māori and Te Wiki o te Reo Māori.
Mahuru Māori started at Te Wānanga o Aotearoa in 2014 as a way of normalising te reo Māori in everyday life. It was originally an initiative for fluent speakers of Te Wānanga o Aotearoa but has since grown to include the public and all levels of proficiency. The challenge for the month, or for a selected time period, is that Māori be used for all forms of communication and this year more than 1,000 people will speak only in Māori during September.
MC Amy Potter and New Zealand professional Fortnite player Twizz learned the reo Māori equivalent of popular Fortnite multiplayer phrases and words. They then tested their newly-acquired reo Māori skills as part of a team of four that went to war in a livestreamed 100-player Fortnite battle royale. The idea for this war of words, stems from a Te Wānanga o Aotearoareo Māori translation of the Fortnite map in 2018.
"Mahuru Māori, te wiki o reo Māori koinei ngā kaupapa nui e kainamu mai ana. Nā reira, kia whakamahiti korou tātou mehe ko Tū Matawhāiti, mehe ko Tū ka Ngūha. Ko tētahi huarahi pai rangatahi mā, ko te tō i te reo Māori ki te takuahi o tō whare, otirā ko te kōrero i te reo Māori nōu e tākaro kēmu ana. Wepua te Hoiho kia oma, whāngāia te rākau kia tipu, kōrerohia te reo e ora tonu ai ia. Blah!," hei tā Uenuku Winitana nō Ngāti Tuwharetoa.
"Mahuru Māori and Te Wiki o te Reo Māori is about normalising te reo Māori. We want to see people incorporating more te reo Māori in their lives – and video games are a big part of many peoples' lives," said Uenuku Winitana, Ngāti Tūwharetoa, TWoA-sponsored gamer and Pukana presenter.
Viewers will be able to download Fortnite te reo Māori rauemi (resource packs) from mahurumaori.com/fortnite. The rauemi will contain an updated item translations and the game's most-commonly used phrases and statements. The LPL stream was streamed live from 7pm, September 12 at www.twitch.tv/letsplaylive.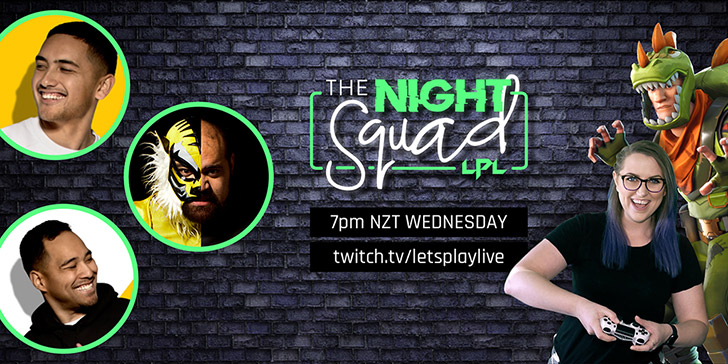 Te Wānanga o Aotearoa is New Zealand's second-largest tertiary education provider with more than 80 sites throughout the country. LPL is New Zealand and Australia's leading esports media broadcaster, working with popular titles such as Counter Strike: Global Offensive, NBA 2K18 and Project CARS 2 publicised live on NZ broadcasting channels including SKY Sport and Māori Television.
About Twitch.tv
Twitch is a live streaming video platform owned by Twitch Interactive, a subsidiary of Amazon. The site primarily focuses on video game live streaming, including broadcasts of esports competitions, in addition to creative content, "in real life" streams, and more recently, music broadcasts. Content on the site can either be viewed live or via video on demand.
About Fortnite
Fortnite has taken the world by storm in 2018. Registering more than 45 million active users, the game features up to 100 players in a match – alone, in duos, or in squads of up to four players – attempting to be the last player alive by eliminating other players or evading them, while staying within an ever shrinking safe zone.
About LPL
LPL is an Australasian esports media company that is focused on building an ecosystem that will underpin the continued growth of esports and gaming in Oceania. LPL delivers world-class tournaments and broadcast content for brands and publishers, out of their purpose-built esports studio inside Auckland's iconic SKY Tower.